If you create based on the base design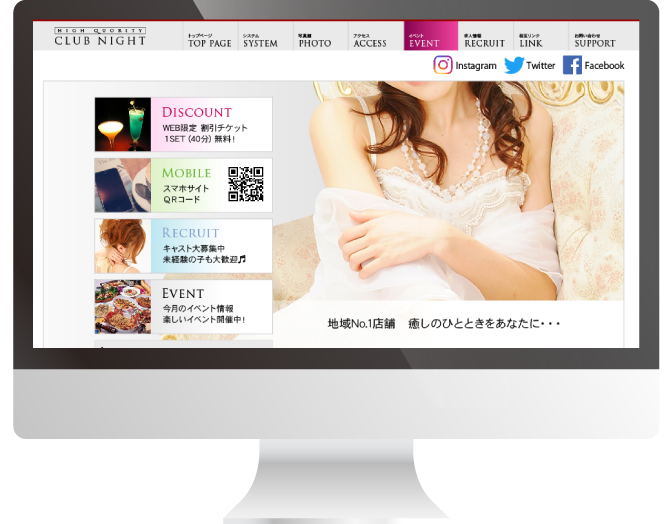 Please choose your favorite base design from many base design lists.
※ The base design can be changed to the desired color.
※ Of course, it is possible to incorporate the desired photo, and we will respond to various requests.
If you create with a completely original design

Even if you create a completely original home product, it is overwhelmingly low cost than the general creation cost!
Homepage management Monthly fee


Even if you create a completely original HP, it is very cheap compared to the general creation cost!
The homepage is a mechanism that can be created only by prepareing photos, filling out materials and meeting , but the visit fee if you dare to visit is as follows.
【1】Completely free visit area 
Completely free (No visit fee, we will bear the transportation fee)
Kanagawa: Yokohama City, Kawasaki City, Kamakura City, Zushi City, Miura County, Yokosuka City, Miura City, Sagamihara City, Yamato City, Zama City, Ebina City, Ayase City, Takaza County, Fujisawa City, Chigasaki City, Atsugi City, Isehara City, Hiratsuka City
Tokyo: Nerima Ward, Itabashi Ward, Kita Ward, Adachi Ward, Katsushika Ward, Edogawa Ward, Koto Ward, Chuo Ward, Sumida Ward, Taito Ward, Arakawa Ward, Bunkyo Ward, Chiyoda Ward, Shinjuku Ward, Toshima Ward, Nakano Ward, Shibuya Ward, Suginami Ward, Setagaya Ward, Minato Ward, Meguro Ward, Shinagawa Ward, Ota Ward, Machida City
Osaka: Osaka, Ikeda City, Minoh City, Ibaraki City, Takatsuki City, Hiraho City, Toyo naka City, Suita City, Settsu City, Oyagawa City, Katano City, Moriguchi City, Kadoshin City, Shijo
jo City, Daito City, Higashio City, Yao City, Matsubara City, Kashiwabara City, Fujiidera City, Habikino City, Sakai City, Tomitabayashi City
【2】Other areas
Free of charge
※ Customers in areas other than [1] will only be responsible for transportation costs.
If you have any questions, please feel free to contact us.